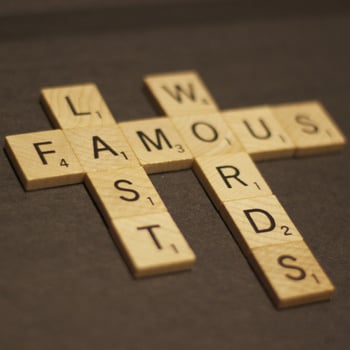 A huge thanks to Sammy Warm Hands for gifting Sound Convictions his freshly finished video for "Anti-Fun", off his upcoming release. It can be found further down, in context. In the interim, this is my review of the forthcoming ear candy from the SWH camp.
Between the time I found an advance copy of Famous Last Words in my inbox and the time I'm writing this, I listened to the the upcoming Sammy Warm Hands album 30 times and wrote almost exactly 6000 words about it.

As I was typing all that up, with Famous Last Words on a loop in the background, it occurred to me that I'm really full of shit and really in love with breaking things down. As I thought about it more, I realized that's not my job at all. That belongs to the creator(s). My job is to find a way to articulate why I get what I do out of it.

So, here's that articulation. Take from it what you will.

Sam's music, since I first came across it, has done something special for me. Sometimes it reminds me of things I should keep in mind more often. Or that I should just sit back and enjoy the songs. Or that I should check out some of these features I'm not familiar with. Or reinforcing my take on something. Or reminding me that everyone has a different story. And on and on.

Whatever the case, I find Sammy Warm Hands to embody a side of me most can't relate to and I don't put out there very often. Maybe you have something or someone who functions as your vicarious self. That's a special thing, and I know it's very personal, so that's where I'm coming from as I relay my thoughts to you, as someone with an entirely different relationship with our titular character. In an effort to be more transparent and less masturbatory here, I figure you should be aware of my bias. Onward we go.

There's a big difference between proving something and owning something. Many attempt to masquerade one as the other, but what tends to be frequently missed is genuinely owning something requires bravery. It requires opening yourself up to what many consider vulnerabilities. The rap game isn't big on vulnerability, and in turn, those who have it hide it behind whatever their particular scene deems invulnerable. This requires a degree of disingenuous approach that, to whatever end, cannot be considered heroic by any measure of the word. Heroism requires risk.

Famous Last Words seeks to prove nothing other than SWH can put together not only a solid track, but a cohesive album. What it succeeds in doing very well is owning every word of itself, warts and all. Notably absent, largely, is cockiness and angst. Notably present is a new air of acceptance and ownership of self/scenario and, perhaps most importantly, an open invitation to the listener into the mind of someone who puts their life on wax. This is what progression as an artist sounds like.

Of course, it's not obvious at first. In fact, the opening line of the album ("Worst name in the rap game/attack like Bane/knock you down proper/to your knees like back pain") would certainly seem contradictory to the not having to prove himself idea. What happens from there, however, is the immediate admission that he's far from "the coolest around".

As the first track ("Famous Last Words (Nobody Gives A Fuck)") moves forward, it becomes clear that Sam's self-awareness level is at its peak, and the first bar of brag rap (and interspersed lines throughout) exist simply as a reminder that he's no newbie. As the process behind his view of his own difficulties within the world of writing and releasing music is revealed, a new and entirely its own monster of difficulty presents itself in the form of an audience - getting anyone to give a fuck about any of it.

There's a fine line between confidence and cockiness. The cocky would blame the usual suspects for not "getting it", victimizing themself for their chosen path and generally scapegoating the world. The confident way to handle this idea is to accept it and move on. And that's what Sam does. That's why this song is so brilliant - it doesn't try to prove a point. It simply brings to the forefront something maybe you don't think about very often. This is the song that no one can argue with. No one is alienated, everyone takes something from it, and the album fluidly continues. Genius.

As opposed to a "this is me, deal with it" approach, Sam continues his choice to invite the listener into his life as an artist with "Before Doors Open", an ode to what goes into touring without label or corporate support. Straight DIY. Again, this is very much an open door take, with zero blame placed on anyone, reminiscent of Brother Ali's "Backstage Pacin'" as far as tone is concerned. ThatKidCry drops a few quick bars and finishes the track off with gusto like a pro.

It should be noted at this point that the K.I. Design beats coupled with Sam's production take on a "less is more" approach to these songs that is serious Wu-Tang level stuff. Or, if you prefer, Lucy Ford-era Atmosphere comes to mind. It takes a keen ear to turn a standard setup into something you could pick out of a lineup. If life is fair, many will take notice. Props.

Sam's very constructive when it comes to social and sociopolitical topics, but FLW's third track may be the most controversial issue he's tackled. Initially an a cappella YouTube video of his take on the occurrences in Ferguson, MO, Sam chose to fledge "Ferguson Freewrite" out into a full blown track. This came unexpectedly, but the more I listen, the less eyebrow-raising the song is. "Ferguson Freewrite" tackles a tough and complex issue in a short timespan, but doesn't give itself any loopholes or ways out, and ends up making more sense with every listen. The overall theme of taking responsibility really shines here.

Perhaps the most telling moment on FLW lies in a very genuine occurrence at the end of "Ferguson": the voice of a Rabbi comes on via (assumedly) a voicemail.

Aside from the fact that SWH is a decidedly non-religiously affiliated performer, which is neither here nor there, one wouldn't be entirely unwarranted in the assumption that some opportunistic play is afoot. Maybe the utilization of an agenda of some sort to be amplified by this unexpected clergy feature? It wouldn't be the first time someone has used that tactic.

Instead, we hear a message to Sammy, full of love and grace and hope, play out atop the beat.

That's it.

I can't tell you how many ways I wrote out my thoughts on this, how speculative I may have been about potential reasoning or how I heard it differently each time I listened. What I can tell you is just how perfectly it accompanies the song, and that what ultimately matters. If you're like me, you'll want to know every detail about Rabbi Hanan Sills and how he got featured on this album. (Also, he introduced me to a new word.)

There's a certain peace that fills the air during Rabbi Sills' words over an understated piano beat. I didn't expect it, and I definitely don't know that it would have been appropriate to a SWH song before this album, but upon my first listen, this is when I started really paying attention.

Which is good, because the picture painted on the following track, "Midnight", requires some focus to gain the full effect.

I recall Patton Oswalt saying something about how he won't write a joke unless there's a "reveal" somewhere in it. That is to say, we have to learn something between start and finish, otherwise there's little point in putting any effort in. Obviously, this isn't directly translatable to music, but we all know those moments when this tactic is skillfully employed. There's a lot of that going on here.

"Midnight" refers to the hour in which the story's female protagonist has to continually and forcibly decide to continue the day after day grinding diligently toward an end goal. It details a typical day in the life of someone who has to fight and work herself silly to achieve her goal, in itself a strong story, but reveals halfway through that this character is Sam's wife.

There's something so loving and honest in the way Sam has written her into his story through song (if you're familiar with Sam's work, you may recall a particularly honest song about their relationship from a couple albums back). He doesn't paint her as anything she's not, but gives her every due he can, and it's never, ever cheesy or derivative. His words come through very truthful and very real, and very appreciative. Somehow, he avoids the pitfall of "emo rap" in the process, as well, which is far too easy a go-to in similar instances.

From there, we're eased back in via a damn-near-perfect track featuring Man Danno, wherein our heroes trade bars in order of 4, 8 and 16. The two wildly differing styles somehow compliment each other to a T, switching so effortlessly you'd think you were listening to the second half of Felt 2. I look forward to this one every time. If ever there was a feel-good Sammy song, this is it. I'd even wager this could stand next to any of your favorite Rhymesayers, Mass Appeal, Viper or Def Jux tracks. Goddamn, this is a sick song.
Read More